We've been describing companies' online digital presence in various regions. Among industries that we've described in our previous research, you can find Airlines, Retail, and Banks in such regions as the EU, US, India, and MENA. This time we would like to pay special attention to Turkey and especially to such niches as retail, banking, and telecom. But before we proceed with our analysis let us explain why we consider Turkey an interesting market.
Turkey is a rapidly digitalizing country and there are some facts to prove it:
According to Statista, digital payment transactions between 2018 and 2022 in Turkey grew 3 times from 21.38 to 63.45 billion dollars. And that's not even the final numbers because the growth projection is set to almost 137 billion U.S. dollars by 2027
Turkey experienced rapid growth in selling and buying goods and services online since the pandemic and has been positioned as one of the fastest-growing markets worldwide. According to Statista, in 2022 nearly 64 percent of the Turkish population made online purchases
With this rapid growth in online transactions, companies should ensure they can catch these digital waves. However, that's not it. There are also some additional habits that are changing for Turks:
Thus, most Turkish consumers are looking for products and brands online, which is obviously not surprising. But where exactly are they looking for it? TOP-3 search engines in Turkey are Google, Yandex, and Bing.  Most of the results are going to be location-based, and that's where locations of brands and companies from Google Maps, Yandex Maps, and Bing Maps will be shown. Because these search engines are responsible for 96% of online traffic, companies can't miss on it.
Therefore, it's important to get information about their businesses correct not only on their websites but also integrate online maps in their CX strategy. However, solely keeping information updated is not enough, as according to the above-mentioned stats reviews are among Top-5 factors for Turkish customers before making a decision about what product to purchase. Turkish multi-location companies also should be paying attention to work with reviews especially with negative ones, as it could seriously damage your online reputation.
By properly working with negative reviews you could turn even highly critical clients into loyal fans. As was highlighted by a Lee Resource study, 70% of customers who complained and received satisfying feedback from a business representative will come back and give this business a second shot. Implementing an omnichannel customer experience strategy should also help.
As was highlighted by Gartner's Research "Treat your observable data as your most precious monetizable asset". Making sure that this data is consistent, working with reviews, and ensuring that the online reputation is fine are necessary steps for all multi-location businesses that would like to attract new customers from online maps and review services. Therefore with Google as a search engine responsible for 77.19% of online traffic it's necessary to pay attention to Google Maps first, but also don't forget about Yandex Maps and Bing Maps.
Thus, we got curious about how companies from various niches work with Google Maps in Turkey. In our following series of articles, you can find our analysis for banks, retail, and telecom. And let us begin with banks.
Turkish banks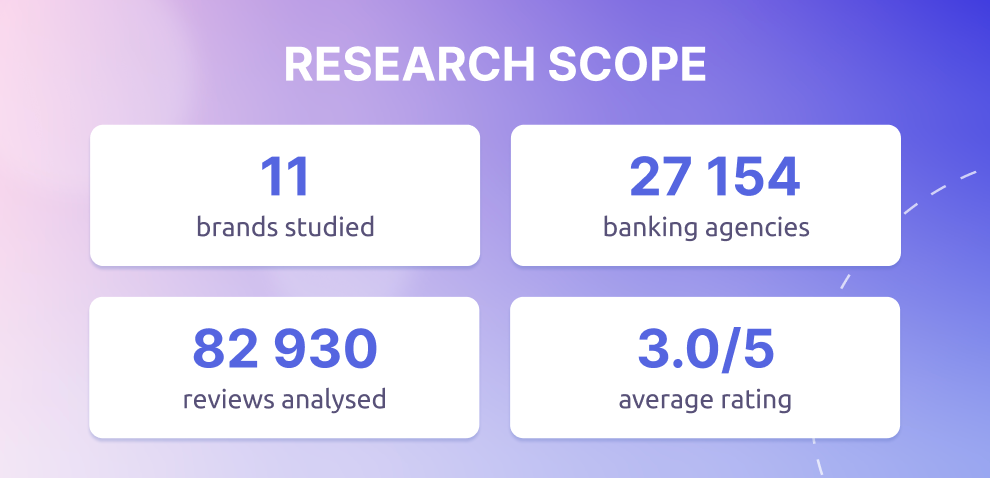 Banks' digital presence has been analyzed in Turkey for 11 banks. Among these banks, we've analyzed Ziraat Bank, İşbank, Vakifbank, Garanti, AKBANK, YapiKredi, Halkbank, QNB, Finansbank, Denizbank, Turk Ekonomi Bank, Sekerbank. The situation with Google Maps for Turkish banks has opportunities for significant improvements as 61% of them are missing necessary information about their business on Google Maps. That number was counted by checking data completeness for such fields as address, coordinates, telephone, category, photo, site, description, and attributes. Moreover, they are also not working with reviews and have lots of unclaimed profiles. However, this is only the tip of the iceberg, so let's talk about our research in more detail.

In total, we've analyzed 27 154 locations with 7 719 ATMs and 19 435 branches. From all analyzed locations 8 255 or 30% are not being directly managed by the brand. To be even more precise from these locations 6 587 ATMs and 1 668 branches.  That might lead to negative consequences as clients could come to incorrect locations at incorrect times.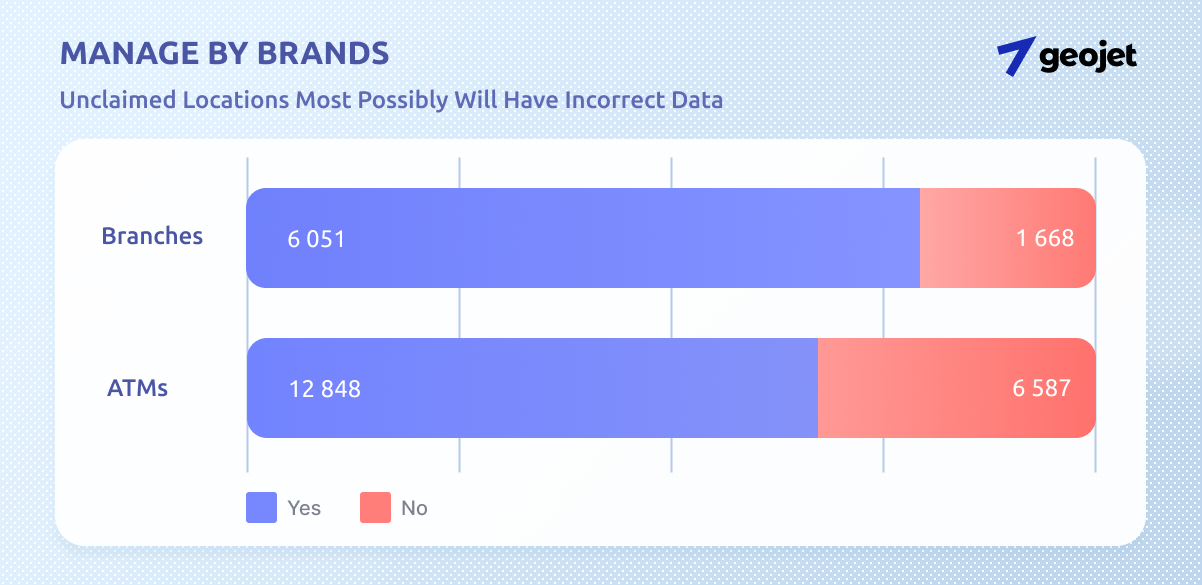 Average data completeness is 61%, where banks mostly miss such information as telephone numbers (11 624 locations or 43%) or websites (6 366 locations or 23%). That could also add to the previous statement regarding brick-and-mortar locations being not directly managed by the brand, as potential clients could come to the businesses with wrong working hours or an incorrect address, which of course wouldn't make them happy.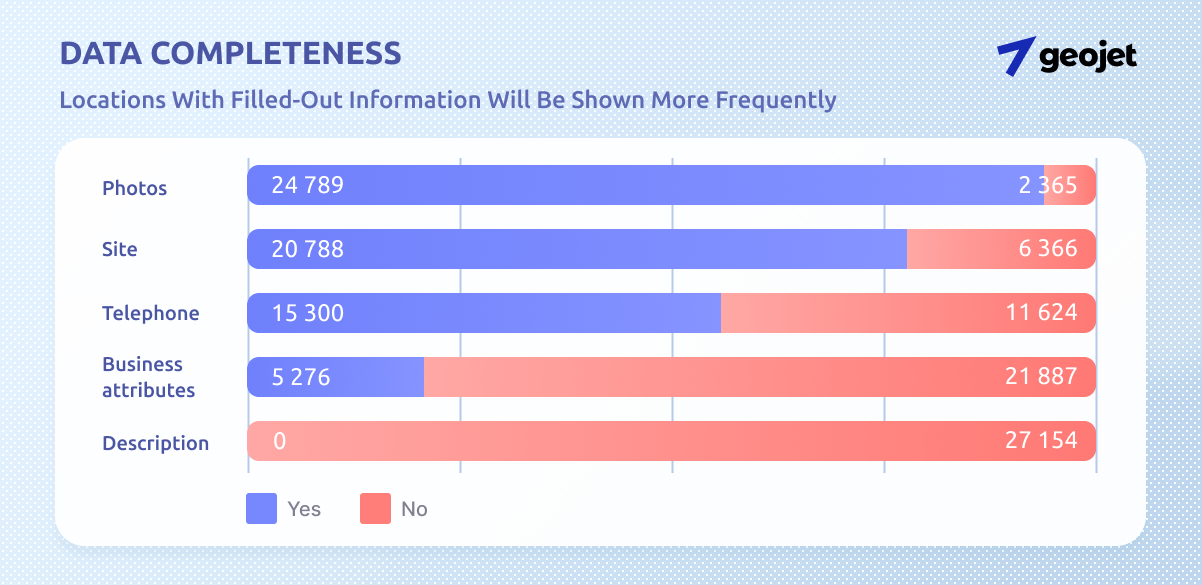 The average rating of the analyzed locations is 3.0., which is based on 82 930 reviews. ​​That might not be enough, as customers view companies with an average rating of 4.0 as more reliable. That is especially applicable to Turkish banks' brick-and-mortar locations, where the average rating for 9 387 locations varies between 1.0 and 3.9. In addition to that 12 200 or 45% don't have any rating, meaning that they don't possess reviews and therefore not engaged with the customers. That could severely damage their online reputation.
We would recommend everyone working with local SEO to start with these locations as it could bring some immediate results and seriously influence the search engine presence of these companies. That might bring results quickly, as an increase of rating even by 0.1 might boost conversion by 25%. If you are curious how to do that we can recommend one of our articles to start with.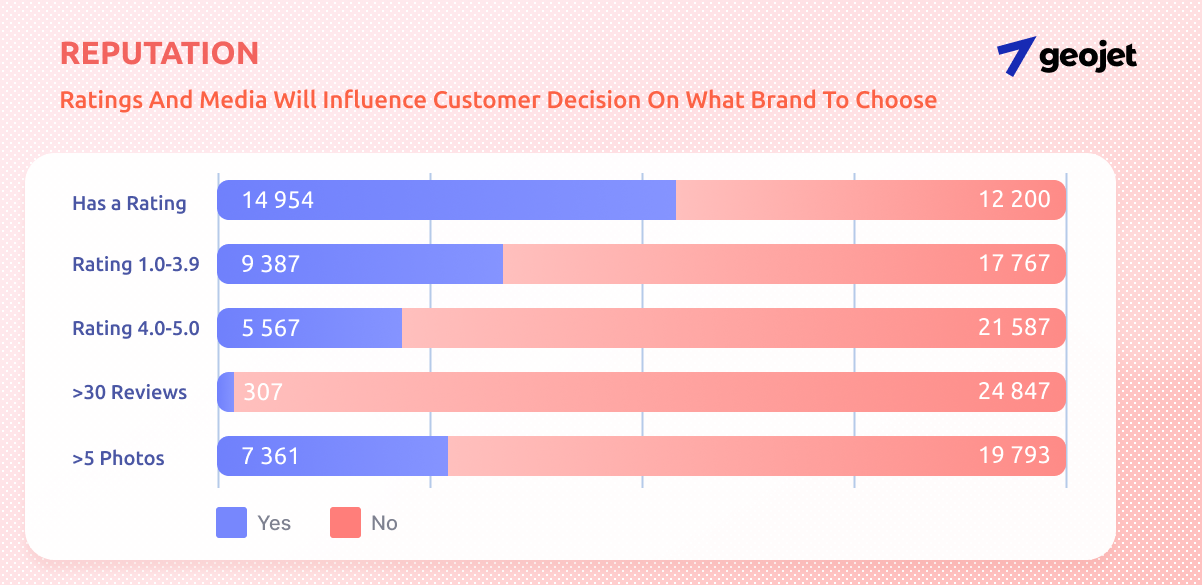 However, the fact that was surprising is that for analyzed locations we found 125 012 photos. Lots of these photos were not relevant, so we would also strongly recommend companies to pay more serious attention to it. 19 793 locations have less than 5 photos. That leads to a lesser engagement with customers as companies' locations with updated and relevant photos and videos are being opened 15% more often. Analyzed companies could start by uploading relevant photos and filing complaints about irrelevant ones to get rid of them and cement their online presence.
This situation is especially interesting if we compare Turkish banks from various regions that we've analyzed before:
All of that means that Turkish banks stand significantly higher than the MENA average with 61% against 93% and even higher than European banks! In addition to that 39% of Turkish banks are paying attention to online maps and review services by not only keeping their information relevant but also by working with reviews and sometimes even by managing unified branding. However, they still have a massive opportunity to develop their online presence further and improve customer experience.

All of that leads us to the conclusion that Turkish banks still have a significant opportunity to grow. We at Geojet have experience in providing the following results for banks:
Increase the number of created routes from online maps by 44%. That brought more potential clients from online maps to offline branches.
Increase discovery visits by 45%, meaning that ATMs and branches became discoverable not only via their names/addresses but also via their categories
The number of site visits has increased by 24%
You can check our cases in more detail here. If you would like to see the same results for your business let us know at [email protected] or contact us in a chat.